Product Description
New Arrival Cryolipolysis loss weight slimming machine combine shockwave physiothery device for body pain relief
The newest cryolipolysis shockwave therapy machine take 4 pcs cryo plates, 1 pcs pneumatic shockwave therapy handle (11 pcs tips). The 4 pcs cryo plates can work at same time ( mInus temperature to -5 degree). Also the 4 pcs cryo plates and shockwave handle can work at same time.
Use wate cooling system ( water tank , water pump and peltier),Each cryo plate, with 2pcs peltier( double layer )
The combination of the two makes the loss weight more effective.
It has been clinically proven that cryo can reduce fat by 26% in one course of treatment. And with the shock wave treatment, the loss weight effect is increased by 33%.

Function

Shock wave physiotherapy

ED treatment
Product detial

Come with 4 cool pad handles , 4 handles can work at the same time
Cryolipolysis and shock wave can work at the same time.
Cryolipolysis
Cool pad is an advanced equipment using the newest Cryoliposes technology to noticeably eliminate fat without surgery.
Cryoliposes is a non-invasive procedure, which uses a targetd cooling process to kill the fat cells underneath the skin, freezing them to he point of elimination Only fat cells are frozen. Your healthy skin cells remain, well, healthy. No knives. No suction hoses. No needles. No scars. Once crystallized, the fat cells die and are naturally eliminated from your body.
1. The Coolplas Kryolipolysis system is a new technology body slimming equipment based on the market demand.
2. The cooling applicator delivers precisely controlled cooling energy to the desired area of fat reduction.
3. When fat cells are exposed to precise cooling, they trigger a process of natural removal, and gradually eliminated through the body's normal metabolic processes.
4. The whole treatment course is very cool and comfortable, safe, painless, non-invasive, non-surgical, no-needles, no incisions, and no recovery time.
Treat Technology
The Cryolipolysis procedure safely delivers precisely controlled cooling to gently and effectively target the fat cells underneath the skin. Treated fat cells are crystalized (frozen), then die. Over time, your body naturally processes the fat and eliminates these dead cells, leaving a more sculpted you.
Shock wave physiotherapy
Acoustic Radial Wave Therapy:
Shockwave, or Acoustic Radial Wave Therapy works by stimulating the fat breakdown, collagen synthesis,and lymphatic drainage.
Our shockwave is delivered by placing a probe up against the areas of cellulite, as it passes over the area it emits radial waves through the skin.
The treated cells are then flushed away through the body's natural removal process and continues for up to 3 months.
Shockwave is most often used to counter cellulite wherever it appears on the body - especially on the outer and inner thigh area and buttocks.

Shock Wave for ED Therapy
Most men suffering from erectile dysfunction have vascular problems affecting the vessels that supply blood to the cavernous bodies of the penis, resulting in a decreased ability to develop and maintain an erection.The end result is an inadequate blood-flow followed by premature draining of an already reduced amount of blood from the cavernous bodies, meaning an erection is not achieved. Shockwave Therapy for ED of this type can be a highly effective treatment. The shockwaves are focused onto the area to be treated creating new blood vessels in penile tissue, enabling patients to achieve and maintain firm spontaneous erections.
ED therapy protocol
1. Target to spongy tissue in 5 different areas
2. 300 impacts per area , total 1500 impacts in one treatment
3. Twice a week , treat consistently for 3 weeks ,then stop for 3 weeks. And start next course .
4. Should be more impacts at the top end of penis . And. Less impacts at the bottom of penis.vascular-related ED problems rather than just treating the symptoms.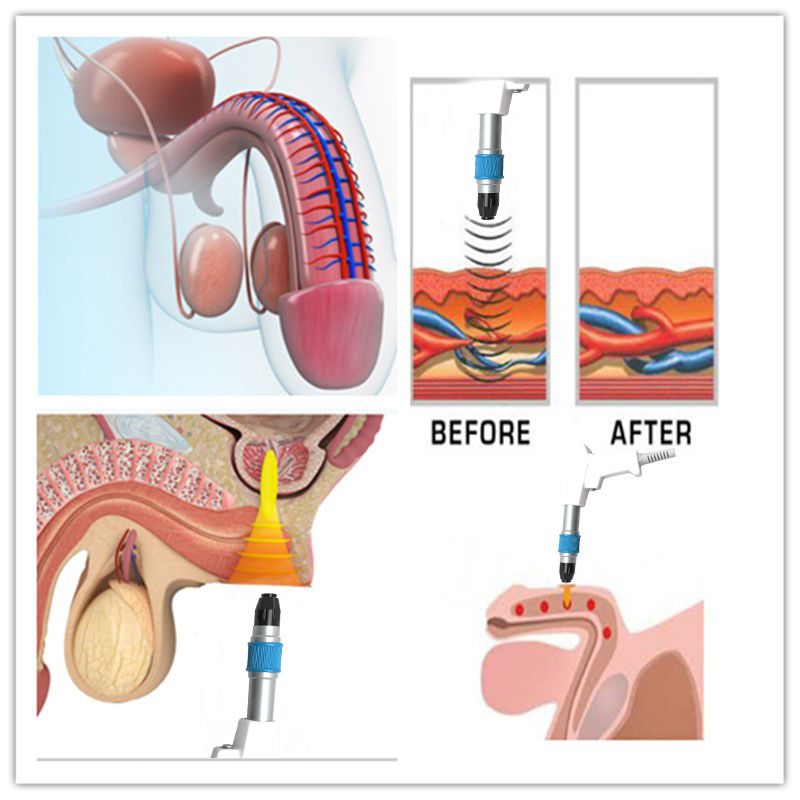 More Real photos
Treatment area
Client feedback
Packing